Make sure that you're up to date with your campaign's delivery status Once your message has been sent.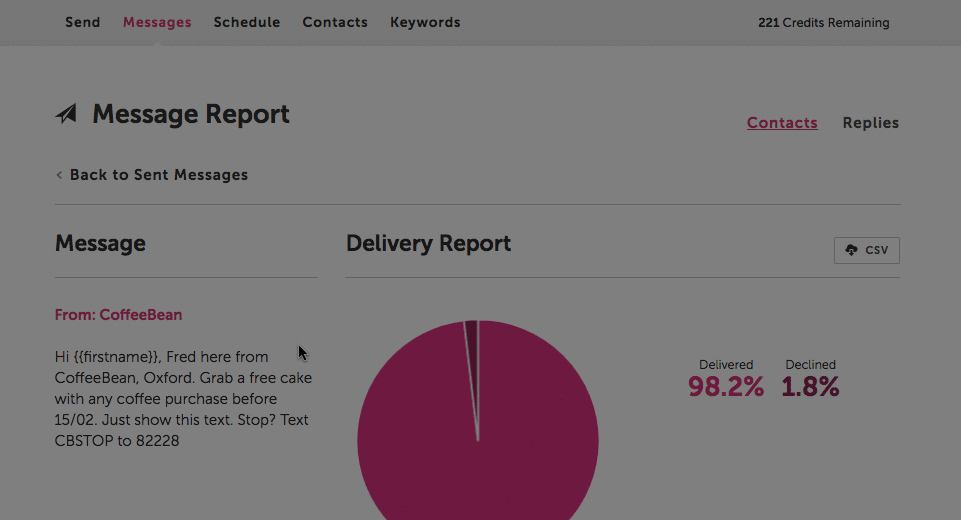 STEP 1: Head into MESSAGES
STEP 2: Then to SENT MESSAGES
STEP 3: Click VIEW next to the message campaign you want to analyse
Here you can view who the message was sent to, the time and date of when the message was sent and the current delivery status…
Delivered
Your message has successfully been delivered to the handset.
Sent to Network / Pending with Network
Your message has been sent to the mobile network, but the network has not successfully reached the handset as of yet. This is likely due to the recipient's mobile being out of signal or turned off etc. The networks will continually retry over a period of up to 72 hours to deliver the message.
Declined
The networks have been unable to deliver your message to the handset. If a message is declined instantly by the network, this usually indicates that the number is no longer active / not recognised and we recommend cleansing your database of these numbers.
For more info on Delivery Statuses, please click here
Handy Tip! If you wanted to download your analytics into a CSV file, just head to the CSV button on the right hand side of the page.